Beyond Hierarchy: Self-Management in Toronto
Tiffany Elliot
There's a fascinating dynamic that emerges when you bring together 90 people with varying ideas around what it means to be, and act as, a self-managing organization.
Inspired to convene a community and what we might learn from one another, The Moment hosted a meetup here in Toronto called Beyond Hierarchy: Self-Management & The Future of Work. I enjoyed speaking with so many guests at the event, engaging in intriguing and meaningful dialogue around the Future of Work, what that means for how companies might organize in non-traditional ways, and why that matters.
Self-management is a topic not often talked about in mainstream organizations. Yet, it's one that is gaining traction in various forms: through books like Frederic Laloux's Reinventing Organizations and the concept of transitioning to Teal, in new modes of working like Holacracy, and of course in bespoke approaches from companies like Fitzii and Percolab. The people who are starting to adopt and promote these practices are few, but engaged — and despite the lack of interest or shear resistance to new ideas out in the general population, the Beyond Hierarchy meetup turned out to be a space where people could connect and feel at ease to share ideas.
…it quickly became apparent that there are individuals and companies right here in Toronto actively shaping the Future of Work
"Have you ever heard of the expression, an island of sanity?" someone asked me at the meetup. It turned out, I hadn't. In a world where advocating for new ways of working may seem like an uphill, or even futile battle, here was a space where people interested in, and actively pursuing, new ways of working convened to share thoughts on changing traditional ways of organizing work.
An island of sanity starts to encapsulate the feeling of why this event gained more attention than we had anticipated, and why there seemed to be a palpable buzz in the air. As the world continues to work and organize in the same old ways, there are those out there who are tackling problems in a whole new way. The Moment is thrilled to be on a challenging and rewarding journey to self-management and why we chose to convene this conversation in the first place.
Part 1 – Learning from those
in
self-management
We were fortunate to host a panel of experts and practitioners who gladly told stories, framed ideas, and imparted wisdom at the meetup. Sharing a range of content around foundational principles, bespoke ways of organizing, self-set compensation models, and decentralized modes of working, it quickly became apparent that there are individuals and companies right here in Toronto, and across Canada, actively shaping the Future of Work in new and meaningful ways.
I heard from many people about how much they loved the content. I'd like to give a personal thank you to all the speakers who took time to share their stories with the self-management community. This event was a success because of you!
Joost Schouten, Co-Founder, Yanamo and Nestr.io
Edwin Jansen, Head of Growth at Fitzii
Samantha Slade, Co-Founder and Social Designer at Percolab
Bryan Peters, ConsenSys
Mark Kuznicki, Co-Founder and Innovation Designer at The Moment
Part 2 – Connecting with the self-management community
Beyond the presentation content, a certain energy materialized in sharing discussions between attendees at the event. Following the presentations, The Moment hosted a fishbowl discussion, where we set up over 80 chairs in 3 concentric circles. The innermost circle provided a space for intimate dialogue, and when people in the outer circles had points to contribute, they tapped into the inner circle. This provided a unique experience for attendees and was an ideal format to convene a discussion.
Some of the questions that came up in the fishbowl:
Maya Boritz @mayabor: "What are the unintended consequences or pitfalls or #holacracy? When it goes wrong, what, typically, are the causes? #responsiveto"
Peter LePiane @peterlepiane: "Self-org kicks ass! I'm in. How does one "sell" it to those who currently hold the power within the hierarchy to make the decision to no longer have hierarchy? #ResponsiveTO"
Charles Finley @charlesfinley: "

How does self-organizing work at scale and with geographic distance (for the fishbowl) #ResponsiveTO"

The real reason behind the buzz in the room? The Moment gave shelter and provided fuel, if only for a few hours, to those interested in and pursuing Self-Management. Thanks for swimming out to our island of sanity, and staying for a few hours.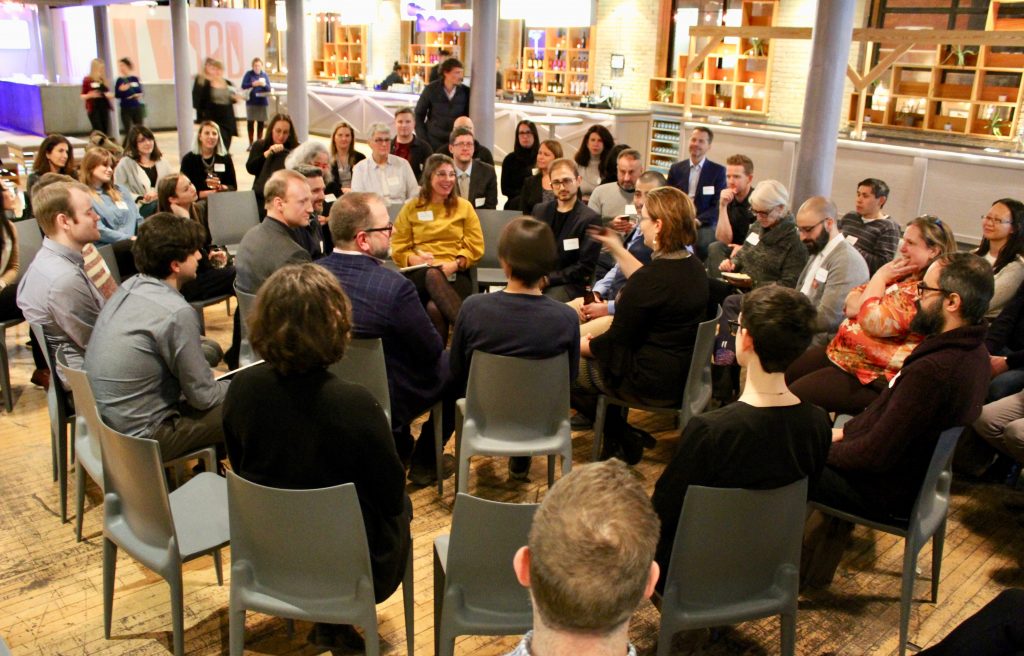 What's Next?
We're delighted and humbled by the overwhelming support we received for this event. I truly believe there is a shift happening, in the awareness and in the practice, of self-management right here in Toronto. We saw evidence of this in the support of the community who showed up, and in the content displayed by both presenters and attendees. This was about sharing and fostering a sense of community. You are not alone in your interest and practice in self-management – we can form our own island of sanity and continue to support one another in pursuit of better methods and processes in organizing people and work.
Continue the conversation using the hashtag #ResponsiveTO
If you're interested, I want to encourage you to continue the conversation online by using the hashtag #ResponsiveTO and stay tuned for future events hosted by The Moment. In sharing our journey to self-management, we're proud to offer ourselves up as an experiment to test new practices and convene conversations that propel new thinking forward. That's a big part of our purpose.
Posted in
Recent Posts